ANDALUSIA - A KEY REGION IN THE AEROSPACE SECTOR
The turnover of the Andalusian aerospace sector reached
2,071
billion euros in 2020. It exceeded €2 billion for the eighth consecutive year according to Andalucía Aerospace.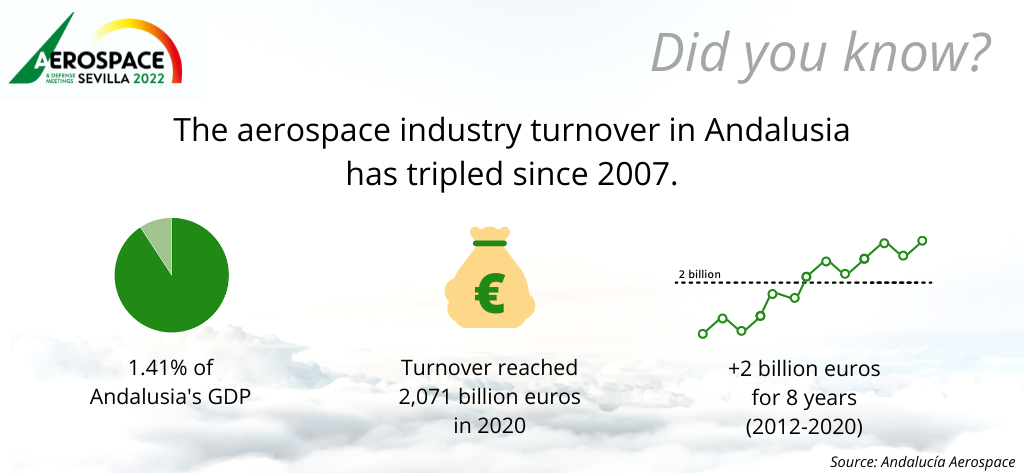 The aerospace contribution to the Andalusian GDP

represented

1,41%

in 2020.
Andalusia is one of the main aeronautical hubs in Europe

, with a total sales amount of €2.071 billion, equaling 24% of national sales (€11.412 billion) in 2020. Andalusia dobled its aerospace exportations

(+86%)

during the last decade (2010-2020). and the sector accounts for 6.3% of the total weight of Andalusian exports.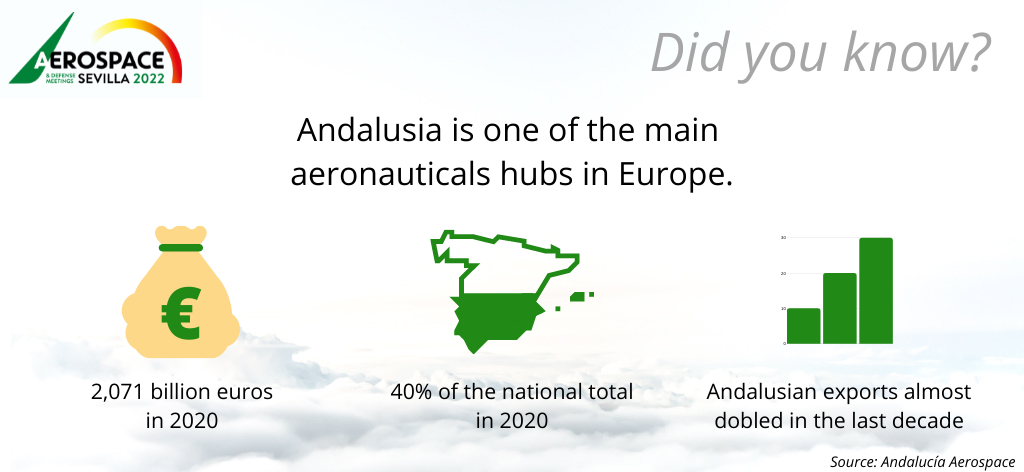 The Andalusian aerospace cluster is made up of

141 companies

. They generate 12.177

direct jobs in 2020.
In 2020, 22% of Andalusian companies in the aerospace field are dedicated to mechanical activities and tooling, 14% to consulting and engineering, 19% to services, 2% to analysis and testing, 4% to electrical and electronic systems, 31% to assembly, the 4% to space and the rest to composites, plastics, space and general aviation.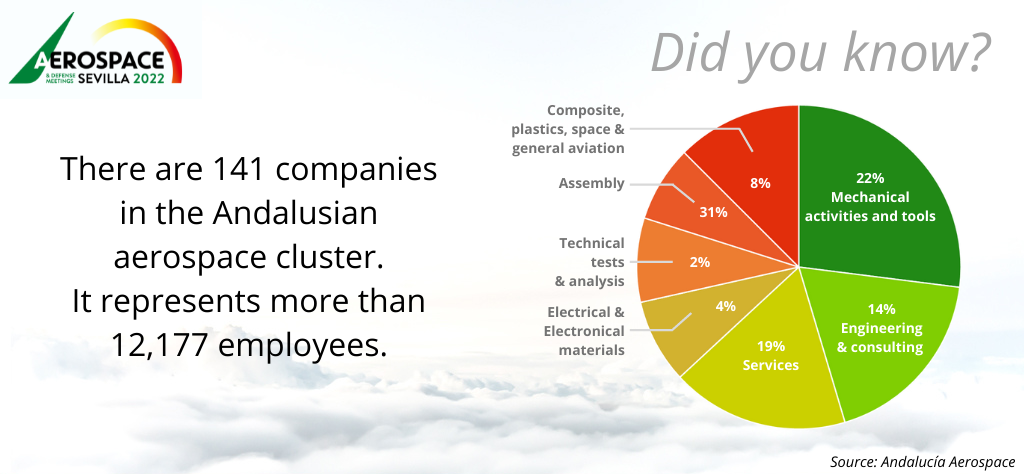 The Seville-Cadix axis captures 87% of the sector's companies. The sector is also developing in other provinces, such as Málaga (11), Córdoba (2), Jaén (3) and Huelva (1) thanks to the ATLAS research center of UAVs in Villacarrillo (Jaén).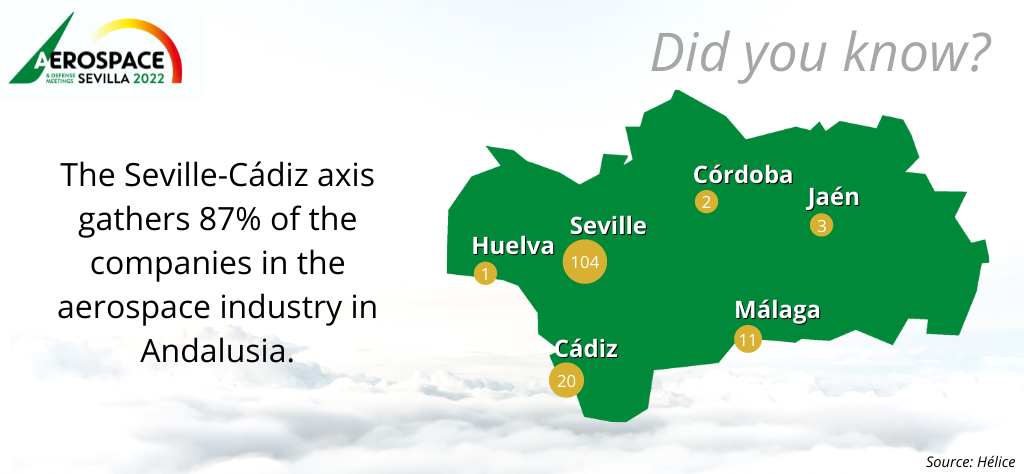 Andalusia, along with Toulouse (France) and Hamburg (Germany), is the third place in Europe, and the only one in Spain, to have a final assembly line (FAL) for large aircraft, such as the one in Seville for the A400M. Thanks to the turnover from this,

Andalusia is considered one of the main aerospace hubs in Europe.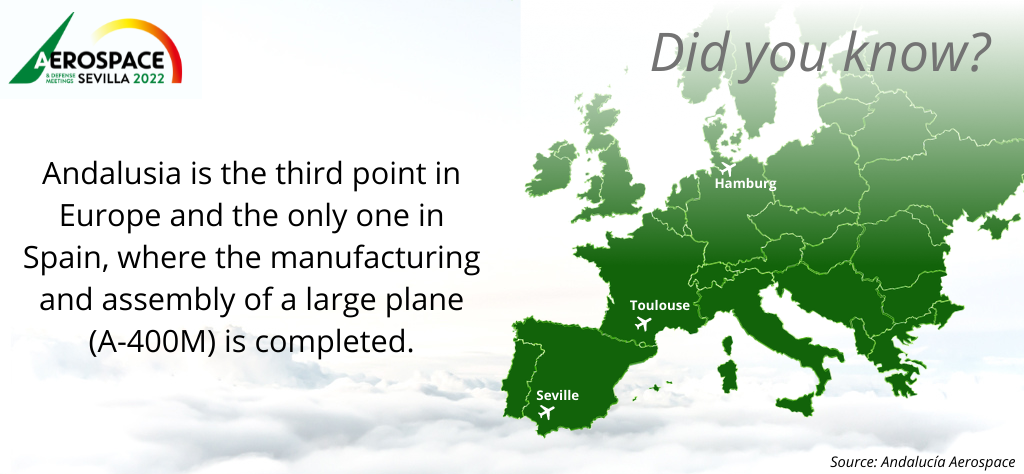 Andalucía generated 42% of the national turnover in Spain (€11,413 billion) and 19% of national employment in 2002 (12.177 jobs) according to

ANDALUCIA AEROSPACE.

data.
Andalusia can rely on a strong and consolidated auxiliary industry, as a result of the subcontracting policy of its leading companies, and the attraction of new customers by the Andalusian auxiliary industry. This industry has reached a €841 billion with up to 9.081 jobs. The auxiliary companies' sales have dobled in the last decade during the last decade.

The Andalusian government refers to the sector as "strategic" and supports its projects and investments. Andalusia has innovation spaces such as Aerópolis - Aerospace Technology Park of Andalusia, which today has more than 90 companies, or Tecnobahía in Cadiz. It also has the Airbus DS Flight Simulator and Pilot and Crew Training Center, which trains 1,200 crew members every year. The CATEC-Advanced Center for Aerospace Technologies continues to be a reference for innovation in the sector; Aeronautic Suppliers Village; Seilaf Project for firefighting training; ATLAS UAV Experimental Flight Center, etc.